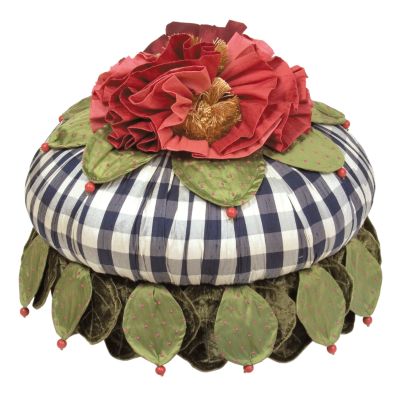 Click or pinch image to zoom.
Ruffled Rosie Footstool
Was: $500

Now: $250
Quantity
Gift Wrap N/A
We're sorry, but this item is no longer available.
Product # 02 225 1316
Flouncy, fun and functional, the round Ruffled Rosie footstool is one sweet little treat. Ruffled Rosie is made of silk fabrics in iconic checks, verdant sculpted leaves, and a blossoming bunch of crimson flowers so fresh you might be tempted to cut a bouquet for the table. Decorated with glass and porcelain beads and tassels, all mounted on a stained wooden vase, er, base. Plant your pedicure on this frilly bloom for a resplendent rest.
Please note that stock availability of sale items may be limited.
Learn more about our furniture.
See the Details tab above for more information.
Dimensions: 19" dia., 10" tall
Materials: Flouncy, fun, and functional. Isn't that everything a footstool should be? An exclusive design, the round Ruffled Rosie Footstool is made of silk fabrics, and decorated with glass and porcelain beads, and tassels. Stained wooden base. Imported. Spot clean only. Pieces will vary due to the handmade nature of each product.
Care and Use: Furniture